Rivona Naturals launches India's First-Ever Bubble Clay Mask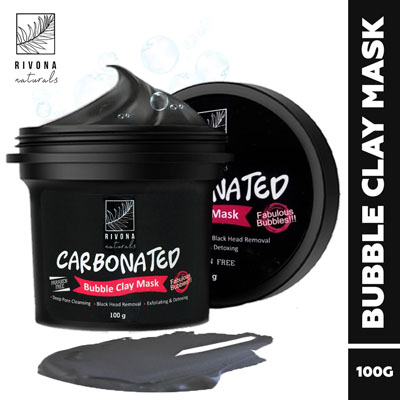 (Your digital wall Editorial):- Mumbai, Jul 29, 2019 (Issuewire.com) – Rivona Naturals Carbonated Bubble Clay mask is a first of its kind carbonated bubble mask being launched in India. Developed with rigorous research and rigid efforts of bio experts at Rivona, includes all the natural goodness of Calendula and Purslane extract. The cult unisex beauty product is a blend of natural extracts of plants, aqua glycerine, and charcoal. 
The carbonation makes the cover foam up once it is applied on the face and oxidizes with the air. The air pockets help exfoliation of dead skin cells and unclog vexatious pores thereby helping the supplements penetrate into the skin. The impact is cleaner, tighter skin and above all controls sebum that prevents future clogging.
More on your digital wall:
Being the First Bubble Clay Mask in India which is also paraben-free yet working extremely well in detoxicating skin giving a smooth feel. The foaming up after application will give a bubbly impact leaving an oil-free brighter skin. 
Besides, clay which is always considered natural and organic, works mildly on the skin, having deep cleansing properties and helps to remove dead skin cells.
While talking about the Benefits of Carbonated Bubble Clay Mask of Rivona Naturals, the following are worth noting:
The carbonation helps in faster and deeper cleansing of pores while preventing further clogging.
Bubble foam exfoliates the skin, forming thick sud, without giving harsher rubbing experience, unlike other scrubs.
It also helps remove blackheads, without having to go through excruciating procedures.
Suitable for all skin types, without having any side effects.
Prevents signs of early ageing supplementing natural ingredients into the skin.
Rivona is also renowned for its natural and chemical-free products, and same goes for its Carbonated Bubble Clay Mask having Calendula flower extract which is used as an ingredient helps in skin lightening, treating skin infections, and works as an antiseptic for skin inflammation. While another herb 'Purslane' whose extract is also used in a clay mask, has therapeutic powers which is an excellent antioxidant and a blessing for sensitive skin. At the same time, it is rich in vitamins A, B & C helps in skin protection from harmful radiations and pollution. Glycerine, on the other hand, retains moisture within the skin and treats oily skin glitches such as acne, skin infections, wrinkles and fine lines etc.
Rivona's Carbonated Bubble Clay mask is surely a premium product giving a rejuvenating and soul-refreshing touch while not even deep-diving into your pockets at 899 INR for a 100GM bottle.
Media Contact
Rivona Naturals
Source :Rivona Naturals
This Press Release was originally published by IssueWire. Read the original article here.
More on your digital wall: