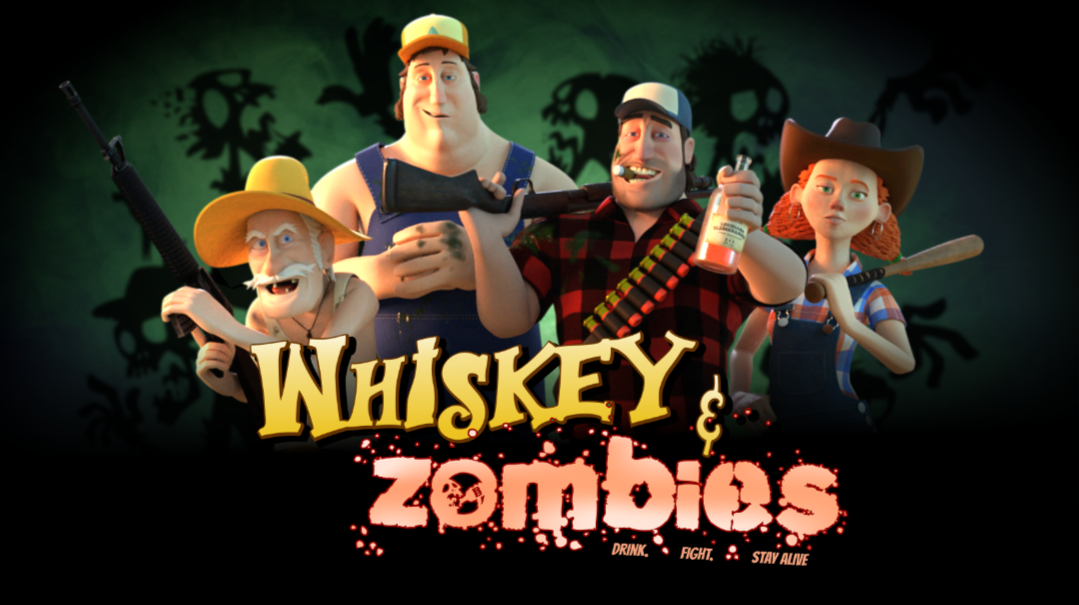 Swedish-based game developer Nuttery Entertainment has signed Whiskey & Zombies® to a global distribution deal with Montpellier-based Plug In Digital, making it part of their curated line-up of acclaimed titles.
(YourDigitalWall Editorial):- Karlstad, Nov 24, 2020 (Issuewire.com) – The top-down, whiskey-chugging, and zombie-punching horror/comedy adventure is slated for worldwide release for PC (Windows and OSX). The game is story-driven and centered around four characters from the same family, each playable solo or with up to 4 people in co-op mode. Future updates will add more game modes. A port to mobile and consoles is planned for 2021.
 "We are incredibly excited to partner with Plug In Digital, ensuring this game can reach and entertain  gamers everywhere. They have shown such a passion when releasing other titles that it was an easy decision for us to let them take care of Whiskey & Zombies and future games", says Magnus Jansson, CEO of Nuttery Entertainment.
" We are very pleased with this new partnership with Nuttery Entertainment. It's in our DNA to spot and support talented indie studios, especially when they carefully craft such a wacky and fun game. Whiskey & Zombies will be a great addition to our game portfolio, and we will be committed to achieve the best business deals for it! ", says Francois Ingrand, CEO of Plug In Digital.
Whiskey & Zombies® is a comedic spin on the classic stealther/brawler genre, juxtapositioning levity, and humor with horror and survival. In the Zombie Apocalypse, only moonshine whiskey is strong enough to kill the virus, but the more you drink, the harder the game becomes. Elevating the comedy and suspense, co-producer ELIAS Software and its adaptive music engine brings a banjo-driven, metal-inspired country soundtrack that adapts seamlessly based on a player's drunkenness and game intensity.
"We developed Whiskey & Zombies together with gamers from day one, attending several comic-con events worldwide where we developed and playtested new features based on actual players' feedback. Plug In Digital understands the need to listen to and engage with the audience which is key for us", says Erik -hrner, Founder and Producer at Nuttery Entertainment.
The demo version is currently available on Steam. For more information about the game go to www.whiskeyandzombies.com.
About Nuttery Entertainment: Nuttery Entertainment is an indie entertainment studio aiming to create premium and standout content. The Nuttery brings together world-class content and top-tier partnerships with a focus on games and animation entertainment. The Nuttery was founded by award-winning writer/director Magnus Jansson and producer Erik -hrner. More information about the company and its projects can be found at www.nutteryentertainment.com.
About Plug In Digital: Plug In Digital is one of the largest independent video game distributors. We help studios and publishers distributing their games worldwide on PC, consoles, and mobile. We are a driving force behind indie successes such as Dead Cells, FURI or Northgard and a key partner for high-profile companies such as SNK, Raw Fury, Paradox, Konami, Bigben, Bandai Namco, CI Games or Curve Digital. Plug In Digital also operates as a video game publisher with two distinct labels: Dear Villagers, built around a restricted editorial line on PC and console, and PID Publishing, calibrated for flexible publishing and co-publishing offers on all platforms.
Media Contact
Erik Öhrner