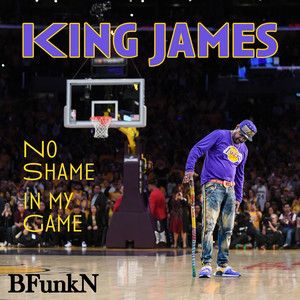 BFunkN's most recent single 'King James No Shame in My Game' represents the ultimate versatile music with its poised outcome of funk, hip hop, and R&B resonance.
(YourDigitalWall Editorial):- Fountain Valley, Dec 16, 2020 (Issuewire.com) – The musical genre of R&B has always possessed the charm to take the reign of the entire musical kingdom in its hands with its superior thematic qualities. Established R&B musician and producer from the land of the FUNK, Cincinnati, Ohio, Bill Reed, best known by his stage name BFunkN has been imparting his funk-infused R&B melodies to the music-lovers all over the world. His latest release 'King James No Shame in My Game' showcases the perfect mix of funky beats and soulful R&B rhythmic flow in its incredible symphony. The addictive melody serves as the absolute backdrop for his breathtaking singing dexterity.
Driven by his genuine passion and hunger for the genre, the brilliant artist started making music and writing lyrics since he was very young. He even founded his own band in his hometown of Cincinnati in his younger years. Struggling to make his musical dreams come true, the hardworking musician devoted his heart and soul to his craft. After years of vigorous endeavors, he has finally established a fine soundscape that expresses his thoughts and emotion while maintaining his individuality at the same time.
Working with his very own production house Bfunkn entertainment, BFunkN has been delivering back to back hits that are the ideal mixture of funk, hip-hop, and R&B. His most recent single 'King James No Shame in My Game' is the epitome of versatile music with its exceptional diversified resonance. Listen to his other masterpieces such as 'BY the Balls', 'Where the Weed At', 'YES WE CAN', and 'Woo Woo (Cincinnati Tuxedo Place)' on Spotify.
Listen to the song 'King James No Shame in My Game' on Spotify:
Media Contact
The Tunes Club
Source :BFunkN
This article was originally published by IssueWire. Read the original article here.