Leawo Software recently launched its special deals for 2021 Mother's Day. Until May 30th, people can purchase Leawo PhotoIns with up to 67% discount to help their mom beautify portraits easily.
(YourDigitalWall Editorial):- Shenzhen, Guangdong May 18, 2021 (Issuewire.com) – With the advent and vaccination of the COVID-19 vaccine, more and more people are able to travel instead of being trapped at home. Although only domestic travel is now available, after more than a year of home restriction, the demand for travel is increasing over time. In travel, photography is undeniably essential, because photos can record bits and pieces of travel so that to recall in the future. However, the facts are always unsatisfactory. Maybe people will encounter many regrets during the journey, such as bad weather, blurred photos, sickness, etc., which are more or less unavoidable. To make up for the regret, Leawo Software, a leading developer and supplier specialized in multimedia solutions and data management software, recently announced its 2021 Mother's Day Giveaway & Sales, including up to 67% limited-time preferential discount on its AI photo enhancer – Leawo PhotoIns, to help people enhance a batch of photos in fingertips.
Powered by Artificial Intelligence technology, Leawo PhotoIns is a one-stop AI photo enhancer that provides professional solutions on enhancing portrait photos, landscape photos, RAW photos, JPG photos, and more in one click. It can automatically and intelligently analyze and perfect a batch of photos without any human operation. In more detail, it can enhance portrait photos by enlarging eyes, retouching skins, removing freckles and wrinkles, adjusting light, and so on, and enhance landscape photos by suppressing highlight, brightening dark details, adjusting color temperature, creating the blue sky, optimizing photo colors and tints, vitalizing the foliage of photos, more. Apart from the above functions, it can also process RAW photos taken with any camera by correcting lens-related problems like distortion, chromatic aberration, and vignetting to make photos look natural.
Leawo Software now provides this AI-powered photo enhancer with a 67% off discount in the two last weeks of its 2021 Mother's Day deals. Until May 30th, people can get a 67% discount coupon by default on its official purchase page. People can free download both Windows and Mac versions of Leawo PhotoIns according to their computer system, and free experience this software. And then, enjoy its full features with the price of $9.95 for a one-year license, or $19.95 for a lifetime license. The other deals participating in the deals include 50% discount on its 13-in-1 bundle, 40% off discount on its top-seller bundles and Blu-ray singles like Blu-ray Copy, Blu-ray Creator- Blu-ray Ripper, etc., and 30% off discount on its site-wide products like iTransfer, Music Recorder, and more. Additionally, every visitor to its promotion page can have a chance to win Leawo Prof. DRM Music Converter as a freebie.
About Leawo Software
Leawo Software is a multimedia software developer dedicated to providing practical and useful software products and services to worldwide media fans. Its products include PhotoIns, Blu-ray player, Blu-ray Ripper, Blu-ray Copy, Blu-ray Creator, Music Recorder, Tunes Cleaner, Video Converter, iTransfer, iOS Data Recovery, etc. for both Win and Mac platforms.
More information at: https://www.leawo.org/?issuewire=1409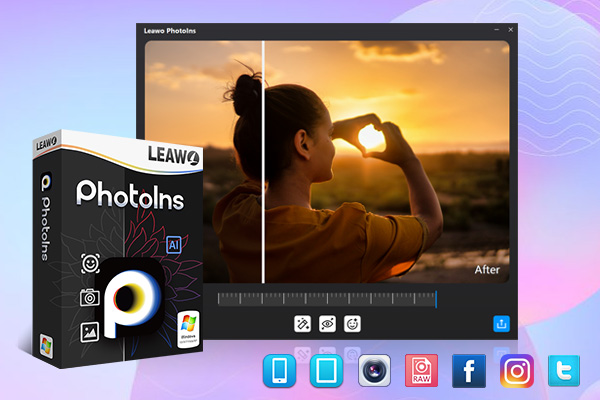 Media Contact
Leawo Software Co., Ltd.