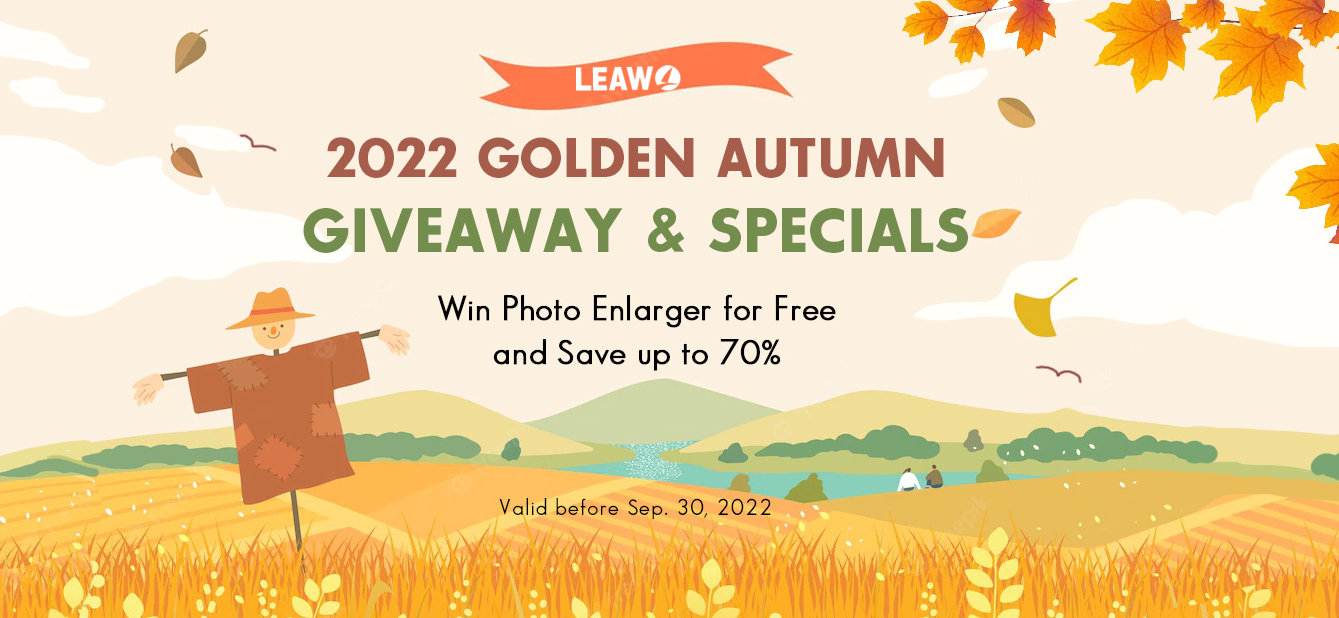 Ending on the Sep 30th, Leawo's 2022 autumn specials cover the best Labor Day sales. Win Photo Enlarger for free and save up to 70% there.
(YourDigitalWall Editorial):- Shenzhen, Guangdong Sep 6, 2022 (Issuewire.com) – Things change a lot each time when September comes– the new school year, cooler temperatures, fewer beach days — but there's one thing we can always look forward to in early September: Labor Day sales. Leawo recently launched the 2022 Golden Autumn Giveaway & Specials Activity, which also includes surprises for Labor Day. People are happy to get Photo Enlarger freebies on the activity page and up to 70% discount there. Read on for detailed information.
Up to 70% off Leawo Solution Packages
70% off Leawo All-in-1 Bundle is an a22-in-1 package. It covering all 4K Blu-ray/ Blu-ray/ DVD/ video/ photo/ audio solution tools, including: Prof. Media 11 + Prof. DRM + PhotoIns + iTransfer + Music Recorder + Tunes Cleaner + UHD Drive Tool + CleverGet Video Downloader. Movies and TV series lovers are surely getting interested in this bundle since download video online for offline playback is a breeze with this toolkit. And CleverGet Video Downloader is the recent achievement of Leawo Software in the field of offline files, which will certainly give a better experience. What's more, users can record music, beautify photos, handle UHD source stuff, etc. Now this formidable toolkit is sold only at the price of $167.88 for a one-year license, whose original price is $559.68.
Leawo has sorted out solution packages for handling different issues and customers can easily make a decision based on needs. All these solutions packages are sold at 60% off and a brief introduction about them is as below:
60% Off Ultimate Blu-ray Toolkit. 60% off Ultimate Blu-ray Toolkit is exactly what they need. It can decrypt, rip and convert Blu-ray/DVD movies to video/audio files in various formats, burn photo/video files to Blu-ray/DVD content, copy and back up Blu-ray/DVD movies, remove Cinavia watermark from Blu-ray to get Cinavia-free Blu-ray copies, etc.
60% Off Ultimate 4K/UHD Blu-ray Toolkit. Ultimate 4K/UHD Blu-ray Toolkit is designed for handling Blu-ray of higher definition: downgrade 4K/UHD Blu-ray drive firmware, decrypt, rip and convert 4K Blu-ray to 1080Por other videos, copy and back up 4K Blu-ray movies to computer or blank disc in 1:1 or movie-only backup mode. With higher output quality, tools here work better than others in the market.
60% Off Ultimate DVD Toolkit. Including DVD Ripper, DVD Copy, and DVD Creator, Ultimate DVD Toolkit is helpful to decrypt, rip and convert DVDs to video, copy DVDs to a computer or blank disc, and burn video/photos to DVD content.
60% Off Ultimate 4K/UHD Blu-ray Toolkit. This 3-in-1 DVD media conversion solution toolkit can help you decrypt, rip and convert DVD to video, copy DVD to computer or blank disc, and burn video/photos to DVD content.
50% Off Online Video Solutions. A 50% discount is offered for 4 different downloading modules in CleverGet – Video Downloader, Amazon Downloader, Netflix Downloader, and Disney+ Downloader. With CleverGet in hand, no-hassle downloading from different platforms is possible.
$49.95 Photo Enlarger Now Free
This is an AI image more upscale – upscale image resolution, enlarge and enhance images to higher quality for printing, product display, banner, restoration, and other more. Enlarge photos by up to 40x without quality loss, supporting batch processing. An old picture can surely be polished and shine like what it originally was.
More than that, there is a 50% discount for a photo solution named PhotoIns. It is a 3-in-1 photo solution package including AI Photo Enhancer, Photo BG Remover, and Photo Enlarger: Automatically enhance photo quality, remove/change photo background, and enlarge photos by up to 40X. 40% off is offered for a single purchase of both Photo Enhancer and Photo BG Remover too.
Get Everything at a 30% Discount
There is a minimum 30% discount for all singles sold on Leawo's website, and customers who are interested in a trial order can save money too. Just need to click to copy the coupon code and go to the purchase to paste it there. Another good news is that this coupon is supplied endlessly for everyone.
Know more details on the website: https://www.leawo.org
About Leawo Software:
As one of the members of the Shenzhen Software Industry Association (SSIA), Leawo Software is a professional multimedia software developer that focuses on media dissemination and utility software based in Shenzhen, China, and was founded in 2007. In the last decade, Leawo invested the time to develop a wide range of software, including Video series, Blu-ray series, Utility tools, and DVD series.
Media Contact
Leawo Software Co., Ltd.
NO.1183, Yungu Innovation Park, Nanshan Dist.