West Hollywood, California Nov 11, 2022 after nearly a two year absence due to travel restrictions, the Falling Doves will conclude their Double Vision World Tour this December in Australia.
(YourDigitalWall Editorial):- West Hollywood, California Nov 7, 2022 (Issuewire.com) – Black Cherrry Music Group
The Falling Doves are back in Australia this December 2022 with the "Love at First Bite" singles collection and Double Vision World Tour.
After a successful 2022 US & European tour, The Falling Doves will electrify Australia for the 5th time, promoting their newest release " Love at First Bite " – The Singles Collection. 
 As special guests of the venue's final night, the tour will begin Thursday, December 1st at the infamous Frankie's Pizza. The band will visit Melbourne, Brisbane, and other stops along the way, reuniting old fans and new fans with the band.
The Falling Doves said "It is an honor to return to Australia! It truly has been agonizing not being able to return to our favorite country for the last two years. We look forward to celebrating our return with each and every single one of you, we've been working so hard on these shows".
The Falling Doves are a force of electric energy, fused with stadium rock, and a healthy dose of Hollywood's Sunset Strip. Their sound and live shows have helped win over the ears and hearts of fans around the globe.
Christopher Leyva from The Falling Doves is a Mexican-American musician, and producer, with nine Grammy nominations this year alone.
 He was personally mentored by Phil Solem (The Rembrandts), Scott Weiland (STP), and Pete Best (the Beatles). Past tours include Cheap-Trick, Echo & The Bunnymen, Bauhaus, Lit & Buck Cherry, and Gilby Clarke (Guns N' Roses).
The Falling Doves Double Vision World Tour swept through Europe, Asia, and Latin America with nothing short of thunder and lightning. 
While in the UK at the height of the pandemic, the band sought refuge at the legendary Abbey Road Studios, working under the direction of engineer/producer Chris Bolster. Pre-production was done at Motor Museum Studios in Liverpool (Oasis, 1975, Arctic Monkeys) for a future album.
The Falling Doves Double Vision 2022 World Tour will bring the energy of a large stadium into a small concert hall. Brining the rich, visual textures of colorful lights and theatrics you'd see in large arenas.
Brace yourselves, dig up that leather jacket, and your finest rock threads, and prepare to be electrified by rock's most fashionably dangerous bands. Already a force to be reckoned with, the Falling Doves may very well, in fact, save rock 'n' roll…in style.
The tour will conclude in Australia this December 2022.
                  TOUR DATES
Thursday, Dec 1st, Frankie's Pizza, Sydney,
 more TBA
2022 tour promo –
Quick Links: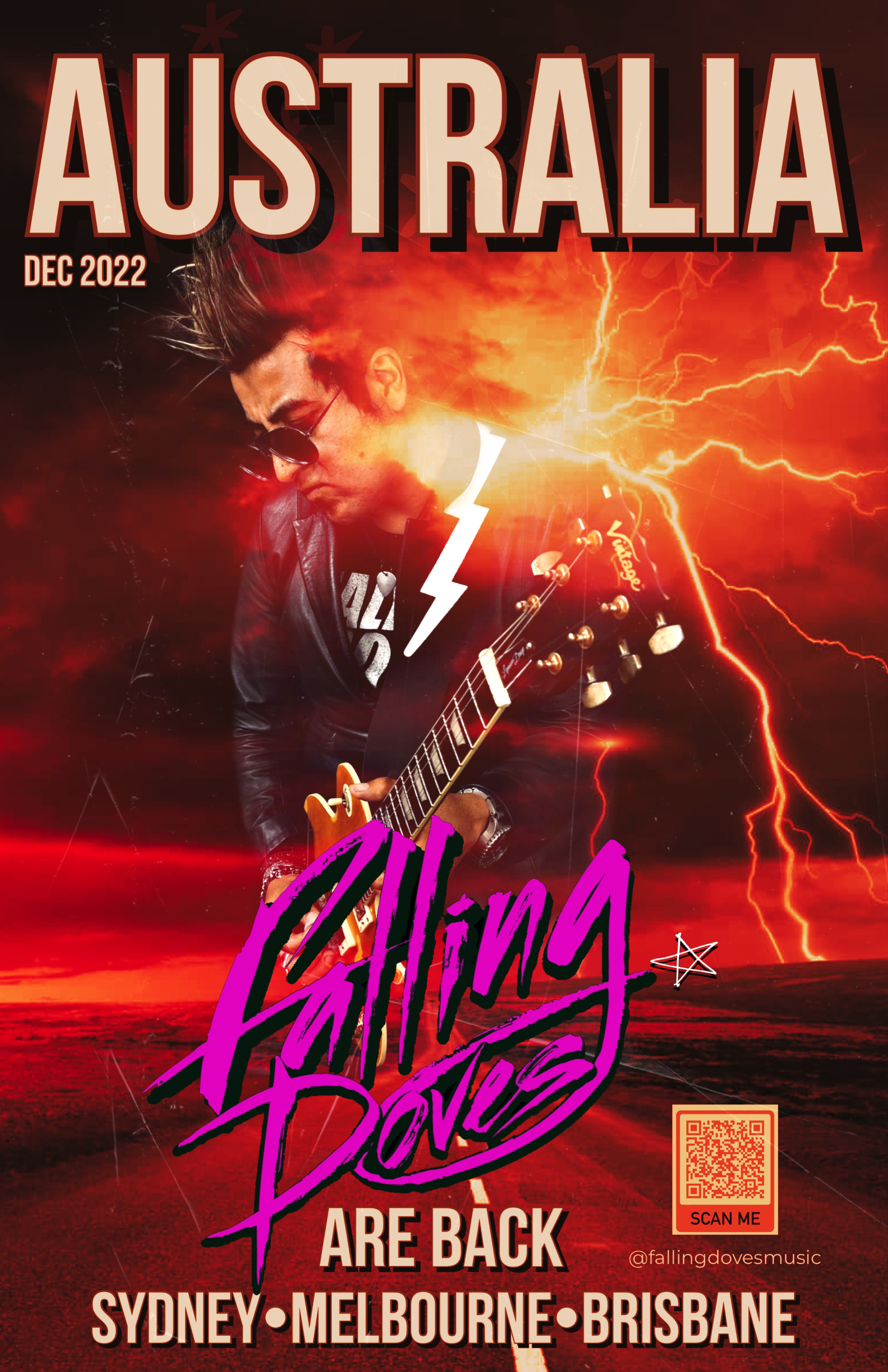 Media Contact
Black Cherry Group
6198043182
501 west broadway, plaza a suit 242