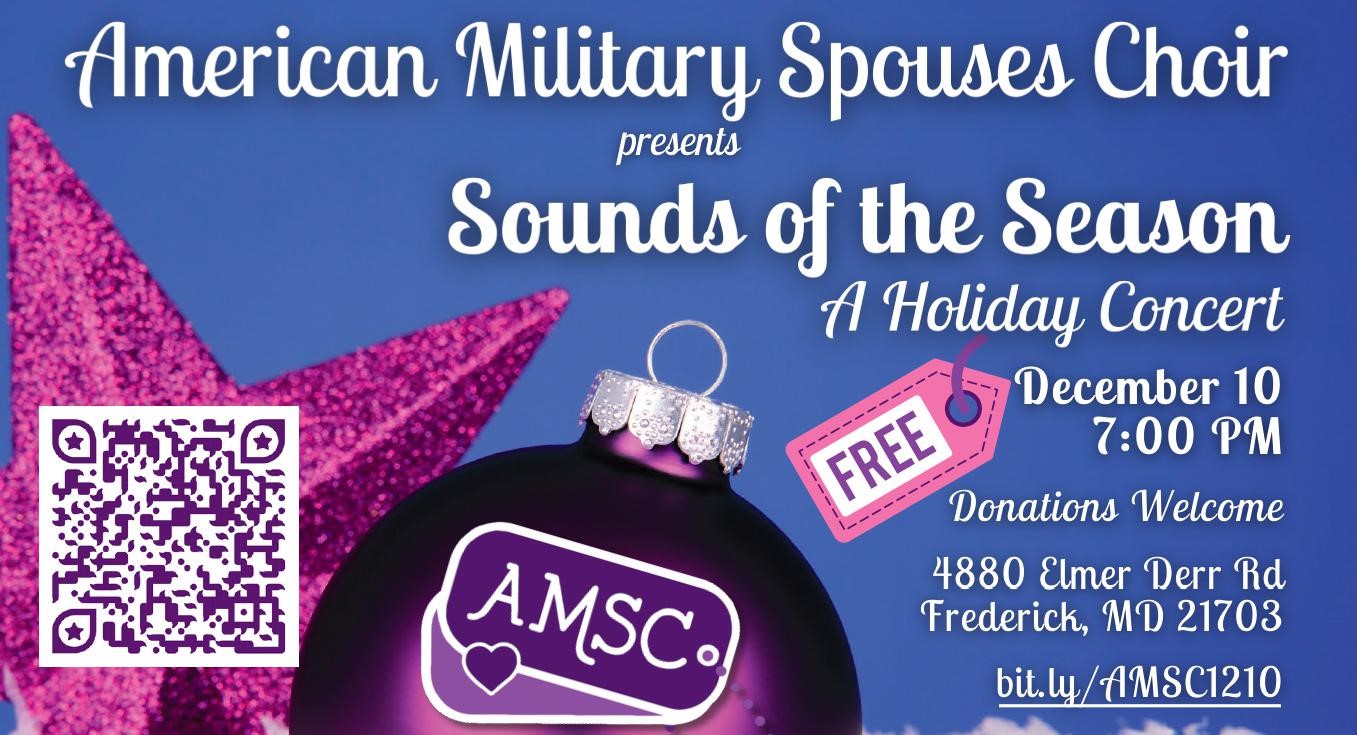 "Sounds of the Season" Holiday Concert
(YourDigitalWall Editorial):- Mount Vernon, Virginia Nov 30, 2022 (Issuewire.com) – The American Military Spouses Choir (AMSC) is thrilled to announce the return of "Sounds of the Season", a holiday concert for the whole family to enjoy. Featuring a mix of arrangements ranging from holiday classics to modern renditions of festive melodies, the event will take place on the 10th of December in Frederick, Maryland at 7:00 pm.
A beloved winter tradition, the AMSC has not held its Holiday Concert since 2013 and after nearly a decade of anticipation, they are honored and thrilled to bring "Sounds of the Season" back to life on this festive stage.
Comprised of military spouses across the United States, and representing every branch of the Armed Forces, the members of the American Military Spouses Choir are excited to deliver holiday cheer to you and your loved ones this holiday season through the gift of music.
Under the direction of Heidi Ackerman, the long-awaited return of this event is the perfect opportunity to celebrate the reason for the season with friends and family. When asked about the performance Ackerman shared that in addition to being a holiday event, this concert is a celebration of the Military Spouses Choir and all that they represent.  She expressed on behalf of the choir that being able to "sing and perform for their friends, family, and community is very exciting."
This performance is completely free to watch and enjoy. Those who wish to support the American Military Spouses Choir can make donations at bit.ly/AM1210 or by following the QR on the attached graphic. Under the umbrella of the Center of American Military Music Opportunities (CAMMO), the AMSC was founded with the mission of using music as a healing tool for veterans and their families.
The Center for American Military Music Opportunities was founded in 2009. Cathie Lechareas, one of the founders of CAMMO, recognized specific challenges that some of our veterans and active-duty service members face. She wanted to create a platform where veterans and active service members interested in pursuing music industry careers could learn, grow, and thrive. In 2020, David "DQ" Quinones co-founded and currently heads CAMMO's A&R and production division. www.cammomusic.org 
Media Contact
Cathie Lechareas
8885626220
8651 John J Kingman Rd #104 Fort Belvoir
The Center for American Military Music Opportunities (CAMMO)