The young Ecuadorian artist Erika Edgar, with a thriving career and winner of two singing reality shows, displays all her talent and the color of her voice in a new single ("El Gatillo")
(YourDigitalWall Editorial):- Guayaquil, Guayas Dec 12, 2022 (Issuewire.com) – The popular Ecuadorian artist Erika Edgar has just released "El Gatillo", a new single in which she displays all her musical talent, inspired by the strength and empowerment of Latin women with a powerful fusion of musical styles that already makes everyone dance. all Latin America. Erika reinvigorates her endless love affair with singing, deftly fusing regional Mexican and popular genres with bulletproof lyrics in this catchy new song, now available on Spotify y Youtube,
"El Gatillo", produced by Carlos Quinto Hermoso, is a step forward in the artist's career, inspired by the strength, empowerment, and emotional intelligence to respond with power to the resolution of couple conflicts in the modern world.
Erika Edgar addresses the story of a relationship in crisis where the woman assumes the leadership to resolve differences, as can be seen in the
Recorded in Medellín, Colombia, together with the production company "Mano de Obra" under the executive production of Jorge Eliecer Espinoza Martínez and the vocal production of Alfredo Abreu, the artist's coach.
In a few days, "El Gatillo" generated tens of thousands of reproductions in
and lit up the entire continent with his rhythm thanks to his powerful lyrics and fire.
Erika Edgar, with a thriving career and winner of two singing reality shows in 2021 and 2022 in her native Ecuador, pulls "El Gatillo" for the empowerment of Latina women with an artistic shot to the heart of international scope.
Erika Edgar, from Ecuador to the world
The artist Erika Edgar (31) was born in May 1991 in the beautiful and cold city of Riobamba, Chimborazo province, Ecuador. From a very young age, her story has been closely linked to music and singing, when she heard her mother sing Mexican songs that motivated her to take her first steps and shine at a very young age in cultural events at her school.
Erika followed her vocation and at just 9 years old she made herself heard throughout her hometown by recording an advertising jingle for a renowned newspaper. Soon after, she made it to national television and won her first singing contest, showing off her impersonations and showing the versatility and power of her voice.
His innate talent opened many paths for him, becoming at the age of 25 the main voice of a renowned Mariachi from Riobamba, taking a big step in Mexico, wherewith his companions he excelled at the International Mariachi Meeting and the Charrería, the most important mariachi festival. important in the world.
Erika was part of other musical formations of the tropical and vallenato genres until as a soloist she found her path following in the footsteps of her inspiring muse, the artist Ana Gabriel, which led her to different latitudes to pay tributes to this and other popular singers.
In November 2021, Erika Edgar became the winner of a reality show on Ecuadorian national television "La Paola Jara Ecuatoriana", being awarded and chosen by the original artist, Paola Jara, and Jessi Uribe.
His career does not stop growing. Making her way into the Colombian popular genre and in the Mexican regional genre, Erika shared the stage with prominent international artists such as Jessi Uribe, Cali y el Dandee, Tito el Bambino, Jorge Celedón, and Paola Jara, among many others.
In May 2022, Erika won another singing reality show in Ecuador as an impersonator of the Mexican Yuri, thus adding another prestigious award to her artistic career.
Erika Edgar once again shows that she is always going for more, and at the end of this year, she released her most recent single, "El Gatillo", in which she proudly shows everyone the talent, strength, and empowerment of women. Latinas.
Listen to "El Gatillo" (Erika Edgar)
YouTube (@erikaedgar):
Spotify: https://open.spotify.com/track/6EOmp00XKtna5o9fAurcOn?si=bc08c683d79b453
Instagram – Facebook – TikTok: @erikaedgarlavoz
Contact for interviews:
+593984826403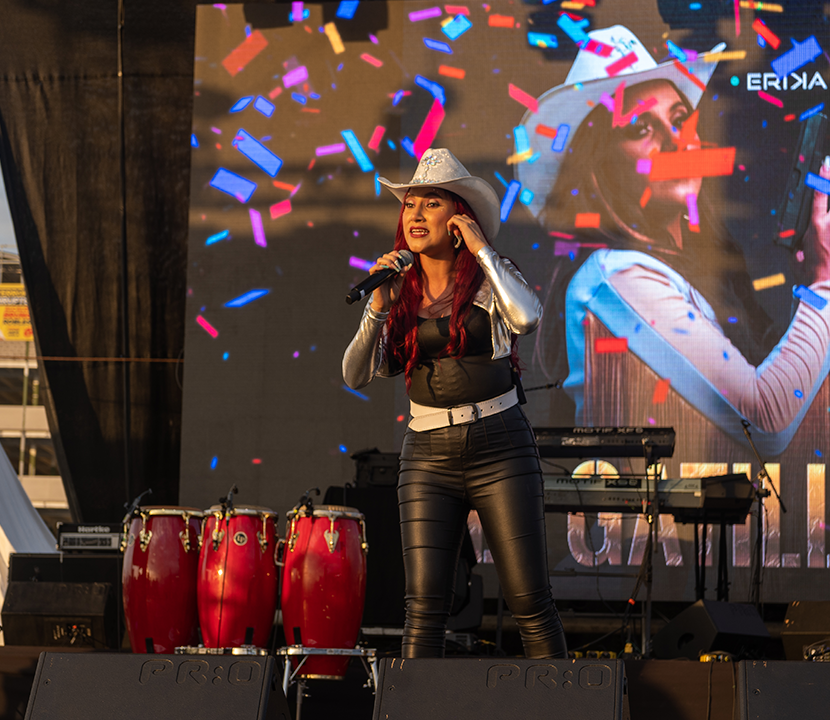 Media Contact
Espinoza Producciones
+593984826403
Guayaquil