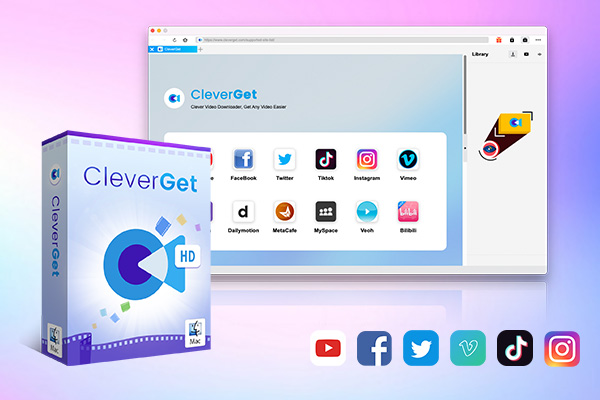 CleverGet today introduced new Crunchyroll/CW/Pluto Downloader modules in Mac V8.0.0 release. Plus, several bugs were fixed to enhance video download experience.
(YourDigitalWall Editorial):- Shenzhen, Guangdong Oct 9, 2022 (Issuewire.com) – CleverGet, a leading multimedia download solution provider trusted by millions of worldwide customers, today officially brought 3 new modules in the latest Mac V8.0.0 update – Crunchyroll Downloader, CW Downlaoder, and Pluto Downloader. With these modules, users can easily download up to 1080P videos from crunchyroll.com/cwtv.com/pluto.tv.com, and save them as MP4/MKV files. In terms of download selectivity, audio tracks can be saved natively or selectively, while subtitles can be remuxed into the output video file or saved as independent SRT/SUP files.
"With the latest update to CleverGet, users are able to download videos from more of their favorite sites," said Stone Brooks, the Product Leader of CleverGet. "While streaming is convenient, it is not possible to watch videos over cellular or Wi-Fi all the time. So, we're working on making a program that can download videos from any website. Through our efforts, CleverGet is gradually supporting more and more websites. And now, we can proudly say that it has supported more than 1000 mainstream websites!"
The Latest Update of CleverGet for Mac V8.0.0 Includes:
Added Crunchyroll Downloader module to download anime videos in 1080P MP4/MKV files from crunchyroll.com.
Added CW Downloader module to download up to 1080P TV series and movies to MP4/MKV/TS from cwtv.com.
Added Pluto Downloader module to download 1080P MP4/MKV videos from pluto.tv, with ads removal.
Added an option to clear browsing history when exiting CleverGet in the "Settings" interface.
Fixed the bug that videos on HBO Max could not be parsed and downloaded due to the update of the HBO Max website
Fixed other known issues.
How to Download Videos from Crunchyroll/CW/Pluto?
With a user-friendly interface, CleverGet provides a simple and easy way to download videos from the target website.
Step 1: Download and install CleverGet on a computer.
Step 2: Enter the source video URL in the address bar. If required, log in.
Step 3: Click the "Analyze" button.
Step 4: Select desired video in the pop-up window and click the "Download" button.
Price & Availability
CleverGet for Mac V8.0.0 is now available, and users can go to its official website to download it for free. The free trial version offers 3 unlimited downloads, while the premium versions of 3 newly added modules have slightly different tariffs. Specifically, the annual and lifetime subscriptions of Crunchyroll/Pluto Downloader are priced at $29.97 and $47.97, respectively. While the annual and lifetime subscriptions of CW Downloader are priced at $35.97 and $59.97, respectively. In addition, CleverGet specially provides limited-time offers for users who have the need to download videos from other sites – 50% OFF CleverGet Video/Amazon/Netflix/Disney+ Downloader. For more details, head to: CleverGet 2022 Golden Autumn Giveaway & Specials.
About CleverGet
CleverGet is a team gathering seasoned engineers, designers, and specialists from other fields. Their ongoing work is for the consistent goal of providing customers with colorful life in advanced tech. CleverGet allows customers to get multimedia data from an online streaming service sparing no effort. With a simple click, users are able to convert online data to local without restriction.
Media Contact
CleverGet Software
Yungu Innovation Park, NO.4093, Liuxian Street, Nanshan Dist.