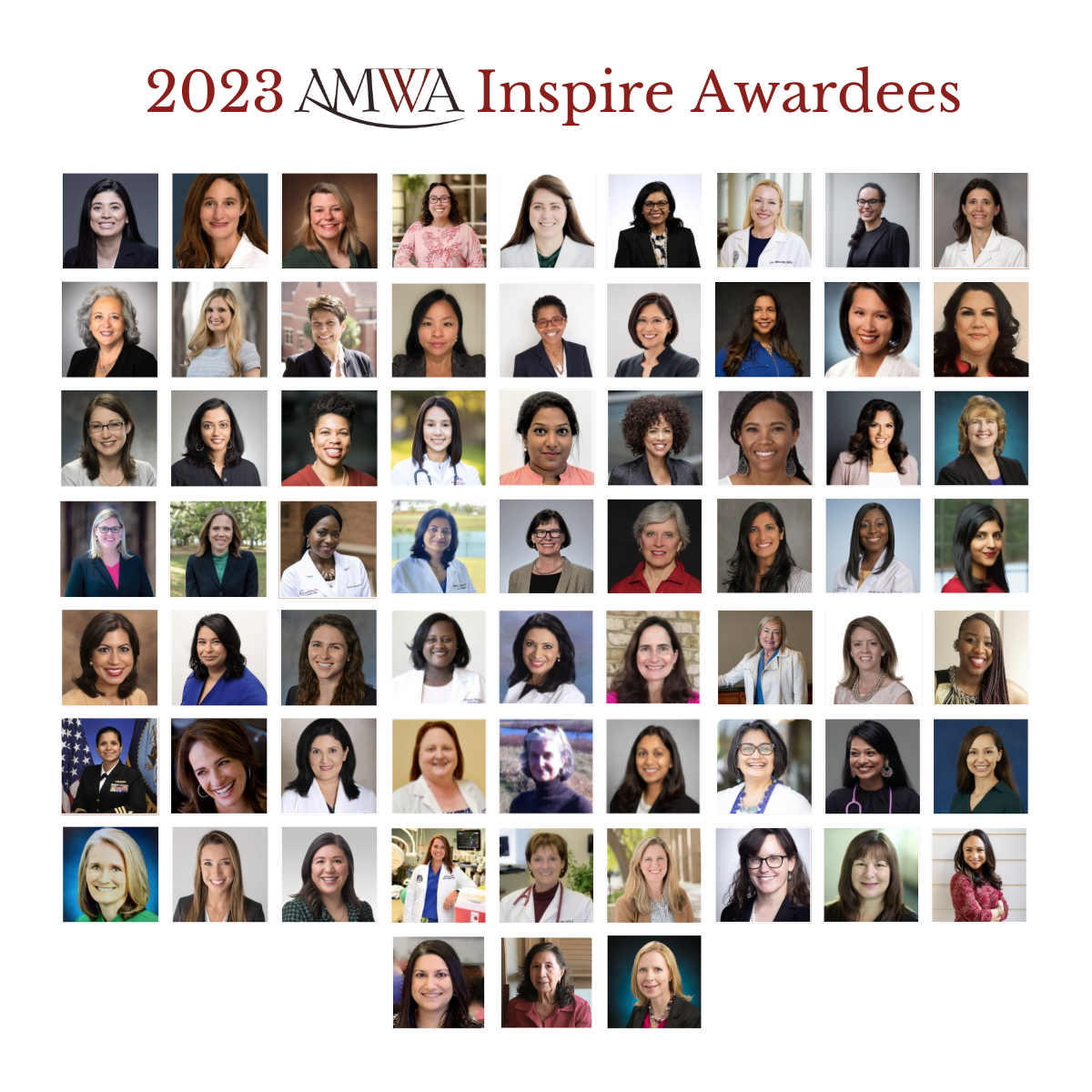 Women physicians are recognized for inspiring others as they lead the way forward in medicine and healthcare.
(YourDigitalWall Editorial):- Schaumburg, Illinois Sep 28, 2023 (Issuewire.com) – The American Medical Women's Association (AMWA) announces 66 women physicians honored with the 2023 AMWA INSPIRE Award. This annual award celebrates the accomplished women in medicine who exemplify the highest values in vision, integrity, service, and collaboration in medicine and healthcare.
"During Women in Medicine Month, AMWA highlights the positive impact of women in healthcare with the announcement of this year's AMWA INSPIRE Awardees," says Dr. Connie Newman, MD, a Past President of AMWA and founding member of the Leadership Council. The AMWA Leadership Council initiated the INSPIRE Awards for the first time in 2021 to honor women physicians who inspire others because of their dedication to health care, compassion for patients, leadership, advocacy, or community service. Recipients of the award are nominated by colleagues, mentees, supervisors, students, or collaborators. 
The 2023 Honorees are exceptional women physicians who work in private practice, in academia, or as hospitalists. "These diverse physicians represent a wide array of specialties from neurology and psychology to general practice. They work in a variety of settings from large academic centers and highly specialized centers of excellence to community care centers dedicated to underserved populations," says Dr. Nicole Sandhu, Past President of AMWA. "They are lauded for their leadership and mentorship in practice, for impressive research and academic accomplishments, and for their impact in supporting and advancing the culture and community of women in medicine."
Four women physicians who are representative of the inspirational award winners this year: 
This physician was recognized for bringing her cutting-best physical medicine practices to her veteran patients in response to an observed need for pain treatment to relieve their refractory chronic pain. She became certified in medical acupuncture, introducing this non-traditional pain management strategy in her VA practice. Her commitment and devotion to providing a non-addictive pain option and her determination to go above and beyond to help our nation's heroes is an inspiration to us all.
Another of our nominees ran for congress in South Carolina, hoping to advocate for her patients as a congresswoman. Even though she lost the race, she has continued to fight for common-sense gun reform, vaccines, and other public health issues to keep kids safe and healthy. When listening to her interview on the Explore the Space Podcast, she seemed the perfect person to honor with the AMWA INSPIRE Award. 
A selfless physician and disaster volunteer, this nominee has deployed to 16 countries, including the frontlines of two pandemics: COViD-19 and Ebola, to provide care. She continues to make a difference, providing assistance around the world after unforeseen disasters. To date, she has offered much-needed care to patients after 5 hurricanes, 4 earthquakes, 2 tsunamis, 2 disease outbreaks, 1 monsoon flood, 1 plane crash, 1 terrorist attack, 1 typhoon, 1 war, and a raging wildfire over the past 22 years.
This awardee is a talented physician-scientist, innovator, and public health leader who serves a safety-net population on the south side of Chicago. She is committed to reducing health inequities, providing value-based care, and improving access to comprehensive and holistic health care for those with chronic medical conditions and facing multiple barriers. She brought telehealth services as well as digital and mobile health technologies to her underserved patients. When the healthcare environment is less than ideal, she is known for her ability to nurture and mentor diverse interprofessional teams and she still finds the time to teach public school children mindfulness to promote values like peace, love and joy.
We present the 2023 AMWA INSPIRE Award to 66 recipients; Read About the Winners 
Abby Lyn Spencer, Professor and Vice Chair for Education at Washington University School of Medicine (St. Louis, MO)
Alisahah J. Jackson, President at the Lloyd H. Dean Institute for Human Kindness and Health Justice of CommonSpirit Health (Chicago, IL)
Alyssa Burgart, Clinical Associate Professor at Stanford Medicine (Palo Alto, CA)
Chiamaka Nnamani,, Board certified Pediatrician in (Annville, PA)
Amanda Verma, Assistant Professor of Medicine and Director of Maternal Cardiology at Washington University School of Medicine, (St. Louis, MO)
Amanika Kumar, Associate Professor at the Mayo Clinic College of Medicine (Rochester, MN)
America Revere, General Surgery Resident at The Medical College of Georgia at Augusta University (Augusta, GA)
Amy Gordon Bono, Primary Care Physician at Heritage Medical Associates (Mt. Juliet, TN)
Anita Ravi, CEO and Co-Founder of the PurpLE Health Foundation, Inc, (New York, NY)
Annie Andrews, Clinical Professor of Pediatrics at George Washington University School of Medicine, (Washington, DC)
Anoushka Marie Afonso, Director of Enhanced Recovery after Surgery at Memorial Sloan Kettering Cancer Center (New York, NY)
Andrea Braden, Founder & CEO at Lybbie and TeamHealth Medical Director at the Atlanta Birth Center (Atlanta, GA)
Cara Ruggeri, Associate Program Director of the Internal Medicine Residency at St. Luke's University Hospital, (Bethlehem, PA)
Cherie P. Erkmen, Professor of Thoracic Surgery, Professor of the Center for Asian Health, Temple University Hospital (Philadelphia, PA)
Darilyn Moyer, Executive Vice President and Chief Executive Officer, American College of Physicians (Philadelphia, PA)
Dolapo Babalola, Founder CEO of Living At Your Finest Wellness and Adjunct Clinical Professor at Morehouse School of Medicine, Department of Family Medicine (Atlanta, GA)
Dr. Eileen Barrett, Associate Professor of Medicine and Director of continuing medical education at the University of New Mexico at Albuquerque 
Fiona Lindo, Medical Director of Urogynecology and Director of Center for Restorative Pelvic Medicine at Houston Methodist Willowbrook Hospital (Houston, TX)
Geetha Govindarajan, Director of Clinical Innovation, Friend Health Center (Chicago, IL)
Hannah Marie Meyer, Resident Physician, Emory University School of Medicine (Atlanta, GA)
Helen Burstion, Chief Operating Officer, Council of Medical Specialty Societies (Washington, DC)
Ivy Riano, Hematology & Medical Oncology Fellow at Dartmouth Cancer Center, Dartmouth-Hitchcock Medical Center (Lebanon, NH)
Janet Albers, Professor and Chair, Department of Family and Community Medicine, Southern Illinois University School of Medicine (Springfield, IL)
Jennifer Allen, Associate Professor and Director of Menopause and Midlife Health, at Augusta University-Medical College of Georgia (Augusta, GA)
Jennifer Poast, Director of Research and Quality Improvement, and Clinic Site Director at San Ysidro Health Internal Medicine Residency Program (San Ysidro, CA)
Jennifer Wiler, Professor of Emergency Medicine at the University of Colorado School of Medicine, and Co-Founder of the UCHealth CARE Innovation Center (Aurora, CO)
Kallie Elise Wynens, General Surgery Resident at Case Western Reserve University/University Hospitals (Cleveland, OH)
Kari M. Wolf, Professor, Chair of Psychiatry, Co-Executive Director of the SIU Neuroscience Institute, and CEO of the Illinois Behavioral Health Workforce Center at SIU School of Medicine (Springfield, IL)
Kelli Braun, Senior Associate Dean for Admissions, Professor, and Director of Simulation and Virtual Education at the Medical College of Georgia at Augusta University (Augusta, GA)
Laurel Murrow, Associate Professor of Medicine at AU/UGA Medical Partnership (Athens, GA)
Lisa Flowers, Professor of Gynecology and Obstetrics at Emory University (Atlanta, GA)
Ludmila De Faria, Clinical Associate Professor of Psychiatry at the University of Florida College of Medicine (Gainesville, FL)
Lynn M. Yee, Thomas J. Watkins Memorial Professor of Obstetrics and Gynecology at Northwestern University Feinberg School of Medicine (Chicago, IL)
M. Laurin Council, Professor of Dermatology at Washington University School of Medicine (St. Louis, MO)
Manasi Kekan, Medical Director at AmeriHealth Caritas (Houston, TX)
Marie Brown, Director of Practice Redesign at the American Medical Association (Chicago, IL) 
Marijka Grey, System Vice President for Ambulatory Transformation & Innovation at CommonSpirit Health (Alexandria, VA)
Marion McCrary, Clinical Associate and Associate Director of Graduate Medical Education & Professional Development Coaching Program at Duke University Health System (Durham, NC)
Mary A. Willis, Neurology Department Chair at the University of Mississippi Medical Center (Jackson, MS)
Mary Lake Polan, Professor of Clinical Obstetrics, Gynecology and Reproductive Sciences at Yale University (New Haven, CT)
Matilda Parente, board-certified in pathology and integrative holistic medicine, she is a special consultant to the CEO of Elios Vision
Miranda Mitchell, Associate Professor of Clinical Medicine at LSU Health Sciences Center (Baton Rouge, LA)
Monica Guzman-Limon, Adult and Pediatric Nephrologist at Austin Kidney Associates (Austin, TX)
Monica Ormeño, Assistant Professor of Psychiatry at the Uniformed Services University of the Health Sciences (Bethesda, MD)
Monica Viteri-Giordano, Medical Director at the Hau'pal (Red Tail Hawk) Health Center (Florence, AZ)
Natasha Travis, Assistant Professor of Medicine at Emory University School of Medicine (Atlanta, GA)
Olga G. de Lopez, Retired Pathologist
Padmaja Patel, Medical Director of the Lifestyle Medicine Center at Midland Health, TX, and President-Elect of the American College of Lifestyle Medicine 
Prerna Mona Khanna, Supervisory Medical Officer and Disaster Reservist at the Desert Regional Medical Center (Palm Springs, CA)
Priti Mahajan, a physiatrist at the Edward Hines Jr VA Hospital (Hines, IL)
Priya Radhakrishnan, Chief Academic Officer, and VP of Health Equity at HonorHealth (Scottsdale, AZ)
Raegan Marie Vanderput, Pediatric Hospitalist and Clinical Assistant Professor at the University of Arizona College of Medicine (Phoenix, AZ)
Saiama N. Waqar, Associate Professor of Medicine and Research Director for Thoracic Oncology, at Washington University School of Medicine (St. Louis, MO)
Sangeetha Isaac, Fellow Physician at the Brody School of Medicine at East Carolina University (Greenville, NC)
Saranya Loehrer, Chief Health Equity Officer for Teladoc Health
Scarlett Schneider, Assistant Professor of Medicine, AU/UGA Medical Partnership (Athens, GA)
Shail Maingi, Network Physician, Network Health Equity & Inclusion Liaison, and faculty at the Dana Farber Cancer Institute (Boston, MA)
Sharon Kolasinski, Professor of Clinical Medicine, Professor of Clinical Medicine (Philadelphia, PA)
Siatta Dunbar, Founder | CEO of Saravit Wellness, LLC (Portland, OR)
Siu Ming Geary, Vice President for Primary Care, and Clinical Professor of Internal Medicine at Scripps Clinic Medical Group (La Jolla, CA)
Stacy Sattovia, Associate Professor of Internal Medicine at Southern Illinois University (SIU) School of Medicine (Springfield, IL)
Theresa Williamson, Assistant Professor of Neurosurgery at Massachusetts General Hospital and Harvard Medical School (Boston, MA)
Tia Powell, The Dr. Shoshanah Trachtenberg Frackman Chair in Bioethics, and Professor of Epidemiology and Psychiatry at the Albert Einstein College of Medicine (New York, NY)
Veronica Sudekum, Physician at the Central Georgia Cancer Care (Macon, GA)
Vidhya Prakash, Chief Medical Officer and Associate Dean of Clinical Affairs and Population Health at SIU School of Medicine (Springfield, IL)
Xinh Donahue Pham, Supportive Care Physician at, Kaiser Permanente (San Diego, CA
AMWA extends our congratulations to and applauds the commitment of each and every INSPIRE Award Winner. We thank those who nominated these remarkable women leaders and for sharing their compelling stories of such inspiration as women in medicine, working to change the culture of medicine and enrich the lives of their colleagues, patients, and the field of healthcare.
Media Contact
American Medical Women's Association
973/809-5462
1100 E Woodfield Road, Suite 350
American Medical Women's Association
Source :American Medical Women's Association
This article was originally published by IssueWire. Read the original article here.