Delight in Leawo's Easter promotion designed to make Easter memorable: Customers can save up to 70% on Leawo's popular DRM removal toolkit.
(YourDigitalWall Editorial):- Shenzhen, Guangdong Apr 11, 2023 (Issuewire.com) – The Easter season is a time for joy and celebration, and people will be preparing a mouth-watering spread of traditional Easter dishes, including roast lamb, hot cross buns, and Easter eggs. Leawo also prepared gift for everyone during 2023 Easter Giveaway & Specials, the DRM Removal Toolkit at an incredible discount (from 30 to 70% off). Take advantage of this robust software that enables users to remove digital rights management (DRM) protection from a range of media files, unlocking the ability to enjoy favorite movies, TV shows, and music on any device. Spring into action and upgrade the media collection with ease. All these promotions are available before May 15, 2023.
Why is Prof. DRM Media Pack the perfect solution when customers want to remove DRM protection? Whether people plan to enjoy Spotify music offline or just treat themselves to cozy e-book reading time during afternoon-tea, they can all find a good solution with Prof. DRM. With Leawo Prof. DRM Media Pack, they can enjoy the benefits below:
The DRM-protected doesn't work as well as expected. Many people reported integration errors, such as connection failure, the feature simply doesn't work, etc. For example, with Leawo Prof. DRM Media Pack, they can successfully download iTunes music as local files and share them with their friends easily and quickly. They don't have to worry about connectivity issues anymore! It means that you can play Apple Music on Bose SoundTouch and even add iTunes music to Snapchat story.
Keep DRM-protected files forever
With Leawo Prof. DRM Media Pack, you can successfully remove the DRM (Digital Rights Management), the copyright protection upon iTunes music/video/audiobook, Amazon Audible audiobooks as well as Spotify music, and download and convert them to any format you like. If people want to cancel the premium of those paid service, Leawo can help them keep downloaded media forever as local files before the subscription is canceled.
70% Off for Upgraded Offer
There is 70% off for the 22-in-1 package covering all 4K Blu-ray/Blu-ray/DVD/video/photo/audio solution tools, including Prof. Media 11 + Prof. DRM + PhotoIns + iTransfer + Music Recorder + Tunes Cleaner + UHD Drive Tool + CleverGet Video Downloader. There you can see Prof.DRM. As a complete suite of top-notch DRM-removal programs, it includes one more eBook converter. Users can get this bundle in both Windows and Mac versions on Leawo's official website, where the free trial version is also downloadable. Another discount is offered and the detail is as follow:
30% off code on buying singles in Leawo Prof. DRM. The sitewide coupon code will be valid for any purchase on Leawo.org including singles in Leawo Prof. DRM. People are free to get this coupon code without any additional fees.
Know more details on the website: https://www.leawo.org
About Leawo Software:
As one of the members of the Shenzhen Software Industry Association (SSIA), Leawo Software is a professional multimedia software developer that focuses on media dissemination and utility software based in Shenzhen, China, and founded in 2007. In the last decade, Leawo invested the time to develop a wide range of software, including Video series, Blu-ray series, Utility tools, and DVD series.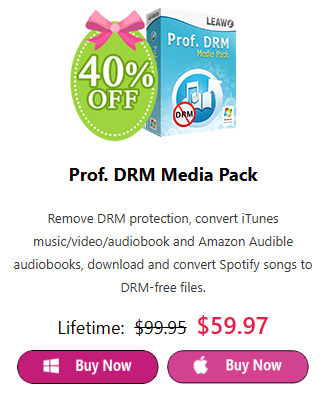 Media Contact
Leawo Software Co., Ltd.
NO.1183, Yungu Innovation Park, Nanshan Dist.