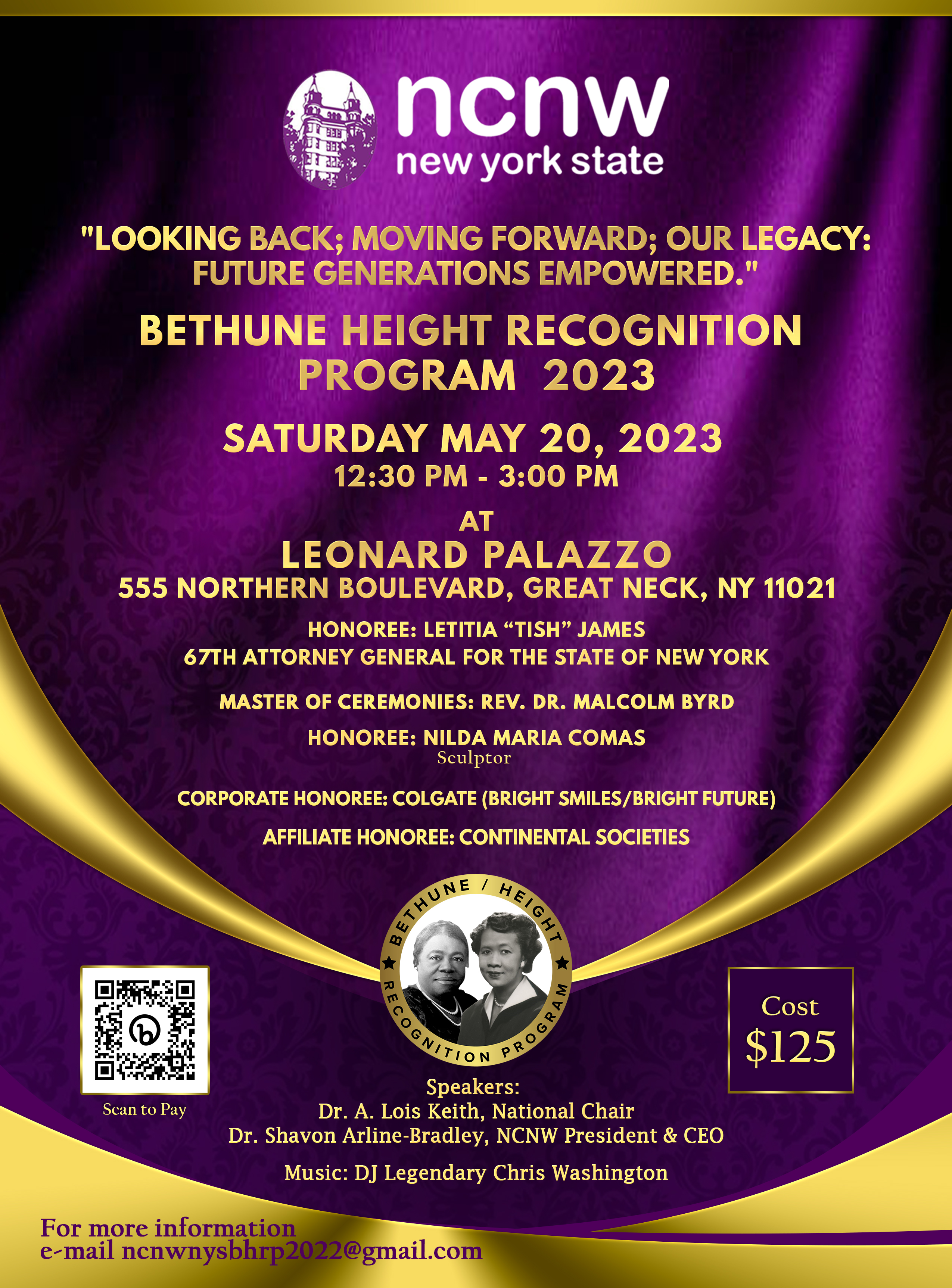 Honoring Letitia James, Nilda Maria Comas, NYS Continental Societies, and Colgate (Bright Smiles/Bright Future)
(YourDigitalWall Editorial):- Great Neck, New York May 5, 2023 (Issuewire.com) – The National Council of Negro Women, Inc. (NCNW) New York State Sections will host the 49th annual Bethune-Height Recognition Program (BHRP) on Saturday, May 20, 2023, at 12:00 PM – 5:00 PM at Leonard's Palazzo, 555 Northern Boulevard, Great Neck, NY 11021.
The event theme is "Looking Back, Moving Forward, Our Legacy: Future Generations Empowered." The Master of the Ceremony will be the renowned Rev. Dr. Malcolm J. Byrd. Speakers will include Dr. A. Lois Keith, National Chair, NCNW, and Rev. Dr. Shavon Arline-Bradley, NCNW President & CEO; The Honorees are New York State Attorney General; Letitia James and Master Sculptor; Nilda Maria Comas. The Affiliate Honoree is the New York State Continental Societies, and the Corporate Honoree is Colgate (Bright Smiles Bright Future).
The BHRP is NCNW's signature event in New York State. It is an opportunity to celebrate the achievements of African American women and girls and to raise funds to undergird and support NCNW's programs and services. Steering this event; Johnnie M. Walker & Dawna M. Fields (National BHRP Co-Chairs) along with Carol Moore (NYS BHRP Chair) and Gladys Keller & Evelyn Kinsey; NYS Luncheon Co-Chairs.
Annually, Bethune-Height Recognition Program (BHRP) recognizes community leaders while supporting the National Council of Negro Women, Inc. The BHRP salutes and recognizes all who embody the Bethune tradition of providing community volunteer services to the less fortunate in honor of NCNW founder Dr. Mary McLeod Bethune and former Chairman of the Board, Dr. Dorothy Irene Height. Proceeds from Bethune-Height's recognition programs support the organization's mission to lead, empower, and advocate for women of African descent, their families, and their communities. NCNW is a historic and leading organization of African American Women that has been at the forefront of social change for over one hundred years. NCNW's mission is to empower women of African descent to achieve economic security, social justice, and political empowerment through education, advocacy, and leadership development.
Dignitaries in New York City and Washington, DC have been confirmed and are expected to be in attendance.
Music provided by:  DJ Legendary Chris Washington
NCNW New York State represents the entire body of members of the National Council of Negro Women, Inc in the State of New York.
Media Contact
NCNW New York State BHRP
5163872227
New York State