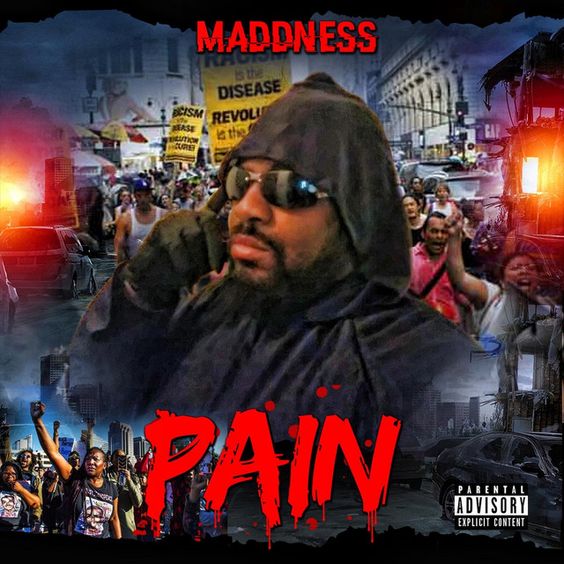 Hip Hop has found its new sensation, Maddness who released his chart-busting single 'Pain'. This new-age banger contains intense lyricism and brilliant production.
(YourDigitalWall Editorial):- Washington, D.C, District of Columbia Jun 14, 2021 (Issuewire.com) – Featuring an intriguing lyrical feast and rising digital soundscape, Up-and-coming musical powerhouse Maddness dropped his latest banger 'Pain'. The rapper has provided a flawless deliverance in the track filled with natural grit and clarity in voice. An honest and unapologetically lyrical approach comes straight out of the artist's heart and engages the listeners. Music arrangement deserves a mention with finely calibrated sound design. A near-spooky and dark ambiance is created to provide a hypnotic soundscape. Well-written verses of the banger are capable of putting a philosophical impact on the listeners, providing them the true meaning of life.
While most rappers tend to portray a swanky lifestyle, Maddness is making some thought-provoking singles that seek a better and greater impact. The artist stands for the truth and depicts the picture of reality; the reality which is filled with madness. Indulgent yet poetic bars along with an unwavering rapping style are what defines the artist. His creativity and skills through the latest single 'Pain' as well. The subject of matter of the track emphasizes the pain that occurs through different incidents of life while finding its true relevance.
The artist has released many other singles which reflects his consistency and dedication to making new tracks like, 'Go and Get It', 'Go Far Away', a five-track album named, 'A World of Maddness', and many others. Geeting powerful with each release, this rapper is already on the quest to make his next banger. Follow him on Spotify, Instagram, Facebook, Twitter, and his official website to know more.
Just go for this track 'Pain' by Maddness :
Media Contact
The Tunes Club
Source :Maddness
This article was originally published by IssueWire. Read the original article here.