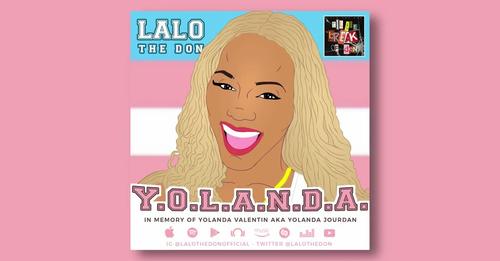 Pay your tribute to late Yolanda Jourdan with Lalo The Don's latest banger 'Y.O.L.A.N.D.A.' The track brings back the memories and moves of this famous icon.
New York City, Jun 25, 2021 (Issuewire.com) – Versatile rapper and an unwavering hip hop artist Lalo The Don has come up with his latest banger 'Y.O.L.A.N.D.A.'  The track is not only a milestone of his career but a greater tribute is lying underneath. Legendary icon Yolanda Jourdan has passed away in 2019 and fans and followers are still recovering from the trauma. The '90's Girl' Yolanda quickly turned world-famous and a role model with her performances in Prada Ball, Vogue Ball reflecting her strong legs, flexible back, and wackiest moves. The rapper has skillfully crafted this track in which the life and the confident personality of Yolanda are portrayed with catchy wordplay and hypnotic grooves of hip hop music.
The title of the track, 'Y.O.L.A.N.D.A.' is kept her name while embracing the unity of the Pride. Yolanda was an amazing trans-artist who made the whole world awestruck which is a big inspiration for the whole LGBTQAI+ community. Embracing her memories and achievements in this month of pride is truly invigorating for everyone. Lalo did a great job in bringing back her memories which his eclectic performance and hard-hitting verses. The track is premiered with an official music video that features the rapper along with clips and snippets of Yolanda. Such an amazing tribute track is not something listeners can expect of.
Lalo is a versatile hip-hop artist with his skills of rapping, songwriting, production, directing, acting, and wrestling as well. He collaborated with Nicki Minaj, Babs Bunny, Surreall of Swisha House, Kool G Rap, Ras Kass, Na'Tee, Al Handfield, and many others for his first album 'Love Life Lyrics'. Gaining much attention and love, the artist progressed with his second album 'Thug Gentleman' which features, Nitty Scott, Lexie Jose, Jacki O, Keith Murray, Chris Rivers, and many others making it his collaboration project on his career. Currently, he is looking forward to his third album which is scheduled to be released this year. The first single from the album, 'Urban Wrestling League' is releasing this week. Follow Lalo The Don on Instagram, Twitter, and Facebook to know more.
Click here to watch this video on YouTube:
Source :Lalo The Don
This article was originally published by IssueWire. Read the original article here.