Leawo offered perfect Mother's Day gift idea: several 60% off specials to meet different needs in media entertainment and Video Converter freebie for everyone.
(YourDigitalWall Editorial):- Shenzhen, Guangdong May 7, 2022 (Issuewire.com) – Mother's Day is right around the corner. Some think that it is a difficult holiday to nail since they have run through all possible presents in recent years. To help them out, Leawo officially launched 2022 Mother's Day Giveaway & Specials Activity and offered perfect Mother's Day gift idea for techie mums. Up to 60% off discount coupons are offered for different solution packages so that trouble-free enjoyment is promised during multimedia entertainment. More than that, Video Converter is given free for everyone and other singles or toolkit are sold at 30% to 50% off. People can find favours and save money during this Leawo's Mother's Day sales, and all special offers are kept and valid before May 31st, 2022.
Full Range of Solution Packages at 60% Off
Leawo has sorted out solution packages for handling different issues and customers can easily make a decision based on needs. All these solutions packages are sold at 60% off and brief introduction about them is as below:
For high-end techies. Leawo All-in-one Package is a go-to choice, which includes Prof. Media 11, Prof. DRM Media Pack, iTransfer, Music Recorder, Tunes Cleaner, PhotoIns and UHD Drive Tool. It is an all-inclusive solution packages and toolkit for handling issues in online video/video/audio/4K UHD Blu-ray/Blu-ray/DVD/picture are all here. Customers can get it and save up to $425.83 now.
For Blu-ray video/audio lovers. 60% off Ultimate Blu-ray Toolkit is exactly what they need. It covers all aspects in Blu-ray: decryption, ripping, conversion, burning and watermark removal.
For high resolution video seekers. Ultimate 4K/UHD Blu-ray Toolkit is designed for handling Blu-ray of higher definition: downgrade 4K/UHD Blu-ray drive firmware, decrypt, rip and convert 4K Blu-ray to 1080Por other videos, copy and back up 4K Blu-ray movies to computer or blank disc in 1:1 or movie-only backup mode. With higher output quality, tools here work better than others in the market.
For classic DVD collectors. Including DVD Ripper, DVD Copy and DVD Creator, Ultimate DVD Toolkit is helpful to decrypt, rip and convert DVD to video, copy DVD to computer or blank disc, and burn video/photos to DVD content.
Best Seller is Given as Free Giveaway
Apart from amazing discount, visitors are happy to get the best seller as freebie. Leawo Video Converter is a formidable converter to help people convert video and audio files between more than 180 formats from one to another. People can use Leawo Video Converter to convert video/audio to common video, common audio, HD video, 4K video, Lossless video, and 3D movies. A built-in editor allows people to crop, trim, merge video, and users can freely add external SRT, ASS, SSA subtitle and select audio track for keeping in the output before the conversion process takes place. Besides, customized photo slideshow video are created by customers in the way they like. It is so powerful that it can act as the best alternative to Freemake Video Converter. This popular product is now free and people just need to fill in their email address to get it.
30% to 50% Singles and Toolkit
In addition to promotions mentioned above, all singles and toolkit on Leawo's site are given 30% to 50% discount, which means that all purchases in Leawo can save money. Know more details in the website: https://www.leawo.org
About Leawo Software:
As one of the members of the Shenzhen Software Industry Association (SSIA), Leawo Software is a professional multimedia software developer that focuses on media dissemination and utility software based in Shenzhen, China, and founded in 2007. In the last decade, Leawo invested the time to develop a wide range of software, including Video series, Blu-ray series, Utility tools, and DVD series.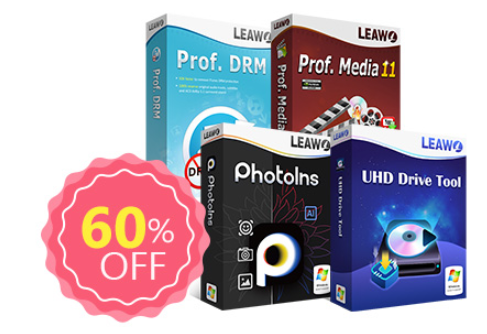 Media Contact
Leawo Software Co., Ltd.
NO.1183, Yungu Innovation Park, Nanshan Dist.